POTHOLE DETECTION TECHNOLOGY RESEARCH
ANNOUNCED
BY JAGUAR LAND ROVER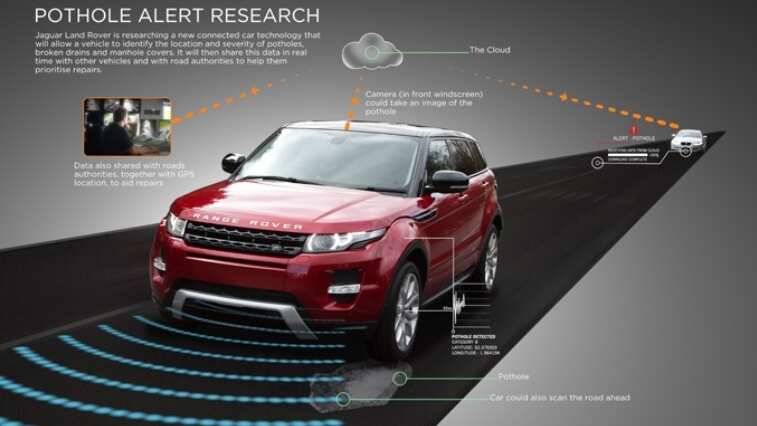 Jaguar Land Rover have announced pioneering research to detect, predict and share data on potholes.
This connected car technology will allow a vehicle to gather data about the location and severity of potholes, broken drains and manhole covers. It will also allow vehicles to send and receive warnings allowing the driver to slow down or the car adjust its suspension settings to reduce the impact and smooth the ride, with the aim of reducing the potential for punctures, wheel and vehicle damage.
In the next stage of this project a Range Rover Evoque will be fitted with new road sensing technology at Jaguar Land Rover's Advanced Research Centre in the UK.
Dr Mike Bell, Global Connected Car Director, Jaguar Land Rover, said: "Our MagneRide equipped Range Rover Evoque and Discovery Sport vehicles feature sophisticated sensors that allow the vehicle to profile the road surface under the wheels and identify potholes, raised manholes and broken drain covers. By monitoring the motion of the vehicle and changes in the height of the suspension, the car is able to continuously adjust the vehicle's suspension characteristics, giving passengers a more comfortable ride over uneven and damaged road surfaces."
Jaguar Land Rover's research team will be working with innovation partner Coventry City Council to understand how road profile information gathered by this technology could be shared with road authorities, and exactly what data would be most useful for their roads maintenance teams to identify and prioritise repairs.
Councillor Rachel Lancaster, Cabinet Member for Public Services at Coventry City Council said: "As part of our 'Smart Cities' strategy, we will be investigating how Jaguar Land Rover's Pothole Alert system could supply us with data in real-time from thousands of connected cars right across our road network. This could give us a very accurate, minute-by-minute picture of damage to road surfaces, manholes and drains in real time."
The pothole technology research to date will be showcased at Jaguar Land Rover's Future Tech Event on the 16th and 17th of June.