INCOMPARABLE AND UNSTOPPABLE - NEW LAND ROVER DEFENDER SET TO LAUNCH IN INDIA ON 15th OCTOBER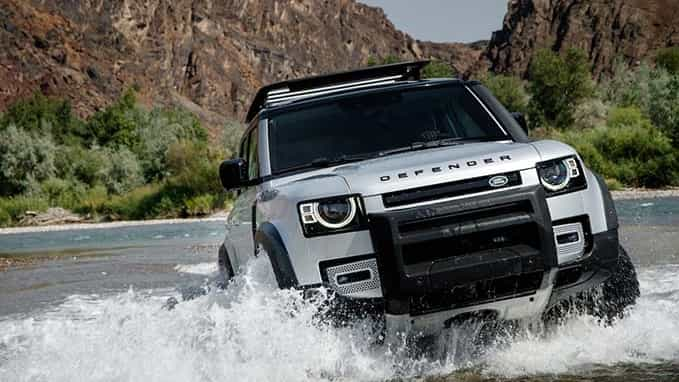 New Land Rover Defender will be launched in India on 15th October, 2020

The launch of the New Defender will mark a significant milestone in Land Rover's journey in India
An immersive and highly engaging digital launch event has been planned to mark the arrival of the New Land Rover Defender in India
24th September 2020, Mumbai:
 Jaguar Land Rover India today announced that the iconic New Land Rover Defender will be launched in India on 15th October, 2020 at 7:30 pm, via a one-of-its-kind digital launch event, which will be open to members of the media, Land Rover customers and fans and enthusiasts of the brand.
Rohit Suri, President & Managing Director, Jaguar Land Rover India Ltd (JLRIL), said:
 "It will be a proud moment for Land Rover to bring the iconic New Defender for the first time in India since we entered the country in 2009. It will also be a significant milestone for the overall auto industry in India to witness the launch of a vehicle which enjoys legendary cult status across the globe. In line with its status, an immersive and highly engaging digital launch event has been planned to mark its arrival in India".
Bookings for the New Defender are open. More information can be found online on 
www.landrover.in
Customers can book their vehicles by visiting the online booking platform at 
www.findmeasuv.in
 for Land Rover.
Land Rover Product Portfolio in India

The Land Rover range in India includes the Range Rover Evoque (starting at ₹ 58.67 Lakh), Discovery Sport (starting at ₹ 59.91 Lakh), the Range Rover Velar (priced at ₹ 73.30 Lakh), Discovery (starting at ₹ 75.59 Lakh), Range Rover Sport (starting at ₹ 87.02 Lakh) and Range Rover (starting at ₹ 196.74 Lakh). All prices mentioned are ex-showroom prices in India.

Jaguar Land Rover Retailer Network in India

Jaguar Land Rover vehicles are available in India in 24 cities, through 27 authorized outlets in Ahmedabad, Aurangabad, Bengaluru (2), Bhubaneswar, Chandigarh, Chennai, Coimbatore, Delhi (2), Gurgaon, Hyderabad, Indore, Jaipur, Kolkata, Kochi, Karnal, Lucknow, Ludhiana, Mangalore, Mumbai (2), Noida, Pune, Raipur, Surat and Vijayawada.