LAND ROVER OFFERS VEHICLE TO RAPID RESPONSE TO AID DISASTER RELIEF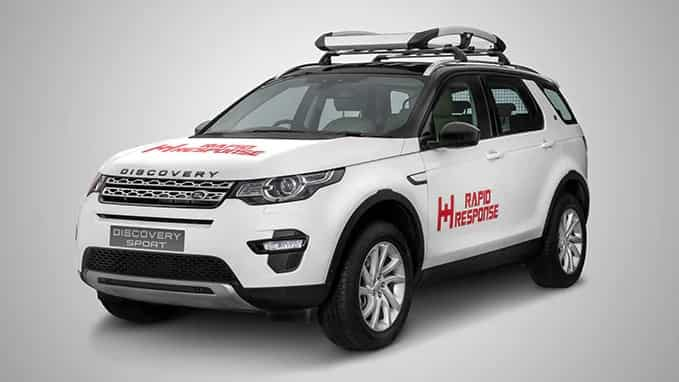 Jaguar Land Rover has loaned a specially prepared Land Rover Discovery Sport to Rapid Response for disaster related relief work across India

This occasion also marks the completion of 10 years of Jaguar Land Rover in India
28th June 2019, Mumbai: With an aim to provide timely assistance during disasters and positively impact the society, Jaguar Land Rover India has joined forces with Rapid Response, an NGO that specialises in disaster management and relief. Jaguar Land Rover India has loaned a specially prepared Land Rover Discovery Sport to Rapid Response this monsoon, to be utilised as an emergency responder, providing rescue and medical assistance, to distributing food and relief kits to vulnerable communities in natural crisis across India.

Rohit Suri, President & Managing Director, Jaguar Land Rover India Ltd. (JLRIL), said:
"Land Rover vehicles, such as Discovery Sport are renowned for their capability in tackling difficult terrains and situations caused by floods and other such catastrophic events. On the occasion of completion of 10 years of Jaguar Land Rover in India, we are proud to offer a Land Rover to aid the team at Rapid Response in their efforts to help victims of such natural calamities in India."

Mohamad Farukh, CEO, Rapid Response, commented, "India is one of the most disaster-prone countries in the world. At Rapid Response, we aim at providing immediate, effective and sustainable support for the victims of natural disasters. Equipped with capability and technology of Land Rover, we are confident in providing more timely and effective assistance in disaster-stricken situations".

The Discovery Sport's characteristics such as Terrain Response, approach angle, departure angle and maximum wading depth of 600 mm will allow the team to wade through the most extreme paths. The Discovery Sport is an exceptionally versatile and inherently capable vehicle and the vehicle handed over to Rapid Response has been provided with additional features such as a luggage carrier, luggage partition, tow rope and more, to ensure immediate assistance in affected areas.

More details on our products are available on jaguar.in and landrover.in.

About Rapid Response

Rapid Response is a registered non-profit organisation committed to provide disaster response and preparedness services to the vulnerable communities in both crisis and non-crisis situations. Founded in 2013, it has since impacted four lakh lives across Uttarakhand, Jammu and Kashmir, Andhra Pradesh, Tamil Nadu, Maharashtra, Bihar, Assam, Meghalaya and Mizoram.

Jaguar Product Portfolio in India

The Jaguar range in India includes XE (starting at ₹ 40.61 Lakh), XF (starting at ₹ 49.78 Lakh), F-PACE (starting at ₹ 64.64 Lakh), XJ (starting at ₹ 102.58 Lakh) and F-TYPE (starting at ₹ 90.93 Lakh). All prices mentioned are ex-showroom prices in India.

Land Rover Product Portfolio in India

The Land Rover range in India includes the Discovery Sport (starting at ₹ 44.68 Lakh), Range Rover Evoque (starting at ₹ 52.06 Lakh), Discovery (starting at ₹ 76.94 Lakh), the Range Rover Velar (priced at ₹ 72.47 Lakh), Range Rover Sport (starting at ₹ 86.71 Lakh) and Range Rover (starting at ₹ 181.86 Lakh). All prices mentioned are ex-showroom prices in India.

Jaguar Land Rover Retailer Network in India

Jaguar Land Rover vehicles are available in India through 26 authorised outlets in Ahmedabad, Aurangabad, Bengaluru, Bhubaneswar, Chandigarh, Chennai, Coimbatore, Delhi, Gurgaon, Hyderabad, Indore, Jaipur, Kolkata, Kochi, Karnal, Ludhiana, Mangalore, Mumbai, Nagpur, Noida, Pune, Raipur, Vijayawada and Surat.