WHAT'S FOR DINNER? LAND ROVER'S ALL-NEW DISCOVERY IS THE PERFECT RECIPE FOR JAMIE OLIVER'S DREAM KITCHEN-ON-THE-GO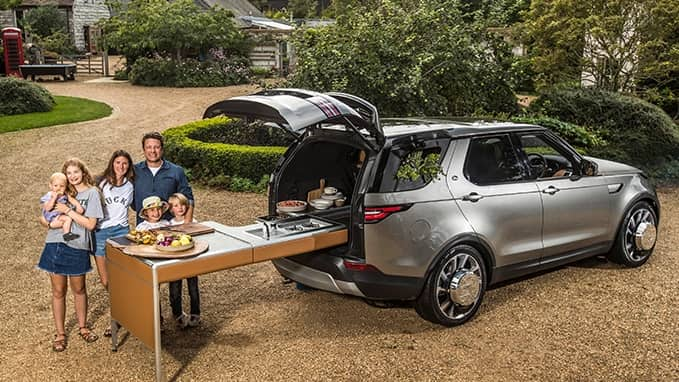 Jaguar Land Rover Special Vehicle Operations builds Jamie Oliver's dream kitchen
Wheels that churn butter, a slow cooker under the bonnet and a toaster in the armrest are just some of the kitchen gadgets on this bespoke Discovery
After five generations, the Land Rover Discovery has become the ultimate family car with seats for all seven of the Oliver family
To watch a summary of Jamie's Discovery story, visit http://bit.ly/2wyO11s
#JamiesDiscovery #LandRover #Discovery #SVO

UK, Thursday 5 October 2017 – Chef and TV personality Jamie Oliver and Jaguar Land Rover have created the ultimate kitchen on four wheels highlighting the versatility of a Land Rover Discovery. Jamie's bespoke family SUV comes with a host of cooking features including a slow-cooker, barbecue, ice cream maker, olive oil dispenser and will even churn butter as you drive.
Jaguar Land Rover's Special Vehicle Operations (SVO) worked with lifelong Land Rover fan and customer, Jamie, to bring his vision to life. The result is truly unique – it's the only Discovery in the world that has a toaster in the centre console and a rotisserie driven by the power take off. Other ingenious features include a slow-cooker that sits beside the engine, a pasta maker, a gas hob and a deployable dining table and worktop. There is even a herb garden and spice rack in the rear windows.
Jamie Oliver said: "I gave Land Rover a massive challenge to create the ultimate kitchen on wheels. I dreamt big and asked for a lot, and what they've done has blown my mind. I didn't think they'd actually be able to put a slow-cooker next to the engine and an olive oil dispenser in the boot, but they did. The result is an amazing Discovery, tailored perfectly for me and the family – we love it. This unique creation means we can take our culinary adventures to the next level."  
The SVO team prides itself on making the impossible happen, so was only too happy to help bring Jamie's ideas to life.
David Fairbairn, Head of Bespoke at SVO, said: "As a team, we never imagined we would be asked to produce wheels that churn butter so it has been great fun working alongside Jamie to bring his vision to life. He really wanted to push the boundaries of what was possible with this versatile vehicle and the team fully embraced the challenge.

"Discovery helps our customers make every day an adventure, and this special vehicle will give Jamie and his family the chance to cook amazing meals anywhere they want to. The Bespoke team was created by SVO to enable us to really understand our most discerning clients' needs, so we can tailor vehicles to suit their lifestyle."

With up to 2,500 litres of luggage space and clever storage for 21st century family essentials, the versatile seven-seater Discovery was the perfect vehicle for SVO to modify. With plenty of room for a custom-made aluminium sink, a flat screen TV and deployable kitchen worktop that also doubles as a dining table. Further touches include a spice drawer, a bespoke pestle and mortar and a Land Rover barbecue.
Jamie's three-part-series on his Food Tube channel will detail the build process and show him cooking for his family with the bespoke Discovery. The first episode goes live at 18.00 GMT on Thursday 5 October, click here to watch.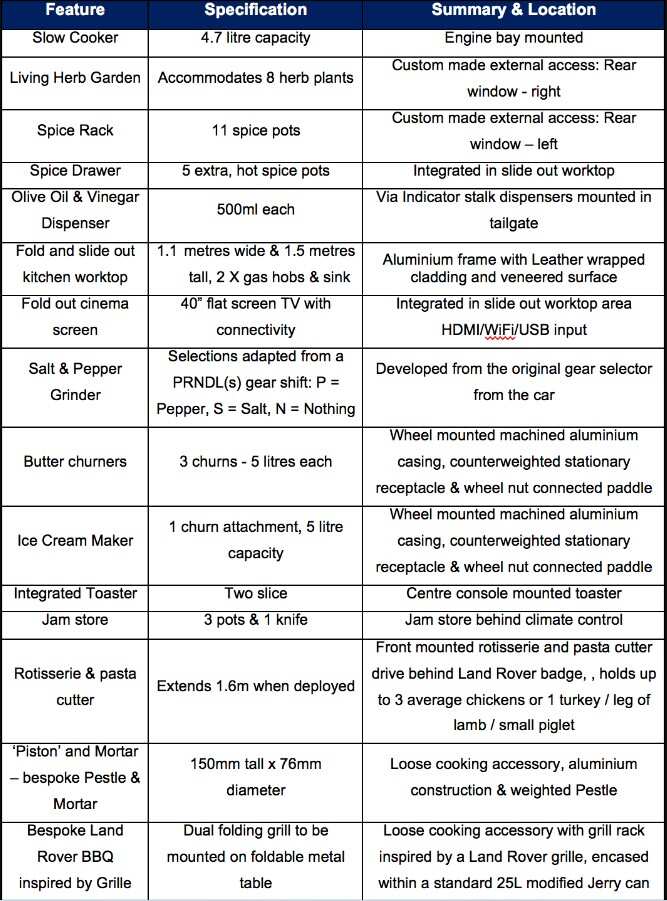 -Ends-
For further information log onto www.media.landrover.com or contact:
Notes to editors:

Since 1948 Land Rover has been manufacturing authentic 4x4s that represent true breadth of capability across the model range. Discovery, Discovery Sport, Range Rover, Range Rover Sport and Range Rover Evoque each define the world's 4x4 sectors. Land Rover products are currently sold in approximately 180 global markets.

Jamie Oliver
Jamie Oliver is a global phenomenon in food and campaigning. Over a 17-year television and publishing career, he has inspired millions of people to enjoy cooking from scratch and eating fresh, delicious food. His charity, the Jamie Oliver Food Foundation, is leading the charge on a global, ongoing Food Revolution, aimed at improving everyone's health and happiness through food.
Jamie started cooking at his parents' pub, the Cricketers, in Clavering, Essex, at the age of eight. After leaving school he began a career as a chef that took him to the River Café, where he was famously spotted by a television production company and the Naked Chef was born.
In 2001 Jamie left the Naked Chef behind when he set up the first of his Fifteen restaurants in London, then Cornwall and Amsterdam, which was the start of a 15-year journey training disengaged young people for careers in the catering industry. A few years later, he led the call for a change in the quality of school dinners in the UK, resulting in huge changes to the school food system. His Food Foundation works in the UK and abroad to deliver food education programmes at primary, secondary and university level, and to the communities most in need through Jamie's Ministry of Food centres. Jamie's national and international campaigns work to revolutionize the way people feed themselves and their families. Every year on Food Revolution Day, the Foundation celebrates successes, and shouts about what needs to improve in the food industry and beyond, in order to galvanize governments and industry to help drive positive change in food education and public health.
Jamie's successful restaurants include Barbecoa and the Jamie's Italian collection of restaurants both across the UK and internationally. His wide range of food and non-food products are popular throughout the world.
As well as writing regularly for Jamie magazine, Jamie connects with audiences across multiple digital platforms, creating and appearing in exclusive content for jamieoliver.com, the Jamie Oliver Food Tube network on YouTube and a variety of growing social platforms. He has now published 17 bestselling cookery books, all with accompanying TV shows. Jamie lives in London and Essex with his wife Jools and their children.