LAND ROVER OPENS BOOKINGS FOR THE ALL-NEW DISCOVERY IN INDIA STARTING AT ₹ 68.05 LAKH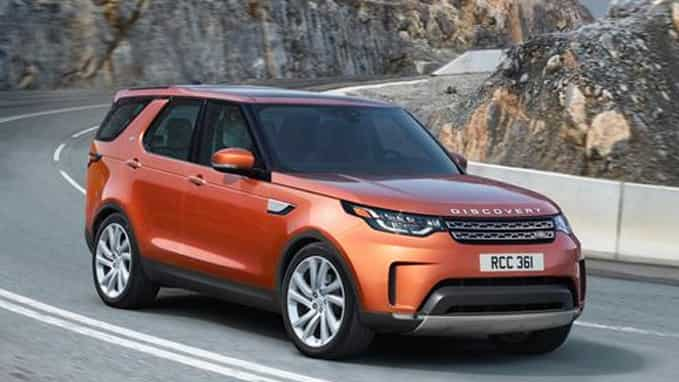 The All-New Land Rover Discovery is a full-sized, three-row, seven-seat SUV with unbeatable capability and versatility
It embodies Land Rover's drive to go Above and Beyond, combining British desirability with an unstoppable spirit of adventure

Bookings for the All-New Land Rover Discovery are now open at Land Rover's 25 authorised retailers in India and is also available for online booking at www.findmeasuv.in 

The All-New Land Rover Discovery to go on sale in India from November 2017 at a starting price of ₹ 68.05 Lakh

9th August 2017, Mumbai: Land Rover has opened bookings for the fifth generation of Discovery. The All-New Land Rover Discovery will be available for sale in India from November 2017. Customers can make their booking online on www.findmeasuv.in or at any of the 25 authorised Land Rover Retailers in India. The starting price of the All-New Land Rover Discovery is ₹ 68.05 Lakh.

The All-New Land Rover Discovery is highly desirable with unrivalled capability and technology like no other. It has been designed from the outset to enable Land Rover customers to live the lifestyle they aspire to. The result is one of the best "Family SUV" in the world.
Powered by a 3-litre TDV6 190 kW diesel and a 3-litre Si6 250 kW petrol engine, the fifth generation of the Discovery family is Land Rover's most versatile SUV yet, with easily configurable seating options, ingenious in-vehicle technology, and best-in-class all-terrain capabilities.
Rohit Suri, Managing Director, Jaguar Land Rover India Ltd. (JLRIL), said:
"More & more of our discerning customers today are seeking new experiences, adventures and avenues for an outdoor lifestyle with family and friends. The All-New Land Rover Discovery is the only vehicle they will ever need to fulfil all their desires & aspirations." 
Please find below the YouTube Link:
https://www.youtube.com/watch?v=ZLANxvrcbb0&feature=youtu.be
More information on the Land Rover product range in India can be found at www.landrover.in
Land Rover Product Portfolio in India
The Land Rover range in India includes the Discovery Sport (starting at ₹ 40.04 Lakhs), The All-New Discovery (starting at ₹ 68.05 Lakhs), Range Rover Evoque (starting at ₹ 42.37 Lakhs), Range Rover Sport (starting at ₹ 89.44 Lakhs) and Range Rover (starting at ₹ 158.65 Lakhs). All prices mentioned are ex-showroom prices in India. 
Land Rover Retailer Network in India
Land Rover vehicles are available in India through 25 authorized outlets in Ahmedabad, Aurangabad, Bengaluru, Bhubaneswar, Chandigarh, Chennai, Coimbatore, Delhi, Gurgaon, Hyderabad, Indore, Jaipur, Kolkata, Kochi, Karnal, Lucknow, Ludhiana, Mangalore, Mumbai, Nagpur, Pune, Raipur and Noida.
-ENDS-
Issued by
Mr. Amey Tingare
Jaguar Land Rover India                                           
Phone: 022- 67241933
Email: atingare@jaguarlandrover.com
Mr. Gaurav Prabhu
Rediffusion / Edelman India Pvt. Ltd.
Phone: +91 7045457897
Email: gaurav.prabhu@edelman.com